Shopify is the world's leading commerce SAAS provider, and the platform of choice for over 100,000 active global retailers.
Sell online, offline and on-the-go using Shopify's powerful technology.
Use your own domain name
Sell gift cards
Integrated blogging platform to create blog posts
Process credit card payments directly through Shopify, or other gateways
Process in-store purchases with Shopify POS
Process purchases with your iPhone using Shopify Mobile
Receive on-boarding support from a Shopify Guru
Access ecommerce analytics
Use built-in SEO, coupon codes and A/B testing
Rely on fast servers and cutting edge infrastructure
Fully PCI Level 1 Compliant checkout
Unlimited SKUs
Shopify is always adding free new features to help you sell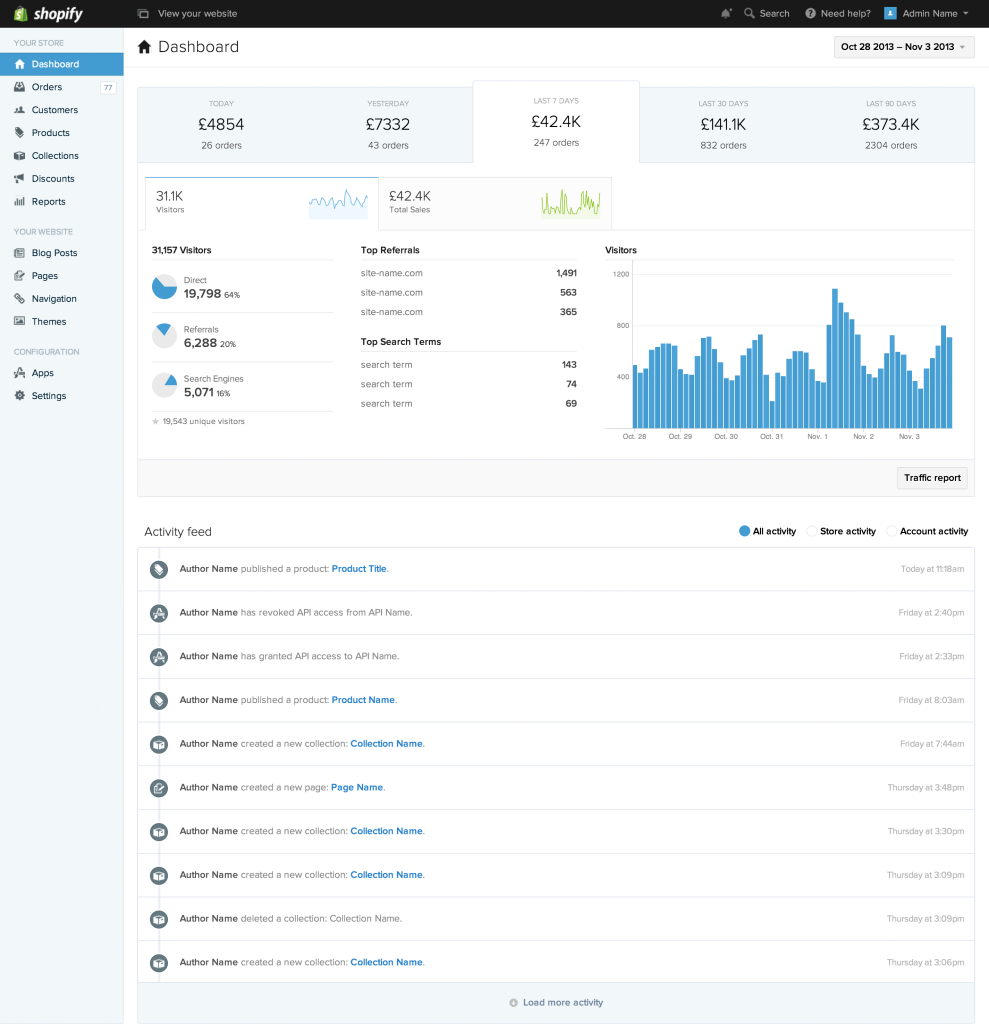 START SELLING ONLINE
WITH A CUSTOM SHOPIFY WEBSITE!
Launching an online store can be both exciting and daunting. You know what you want to sell, but how do you create an ecommerce site that's both affordable and effective? With a custom Shopify theme design and set-up we'll get you launched and on your way to success!
Why I use Shopify:
Quick, simple, cost effective. Gotta love that! I've been working with Shopify since 2007. I love that this Canadian team is constantly growing and adding new features while maintaining what I consider the most user friendly shopping cart system available.
Ease of use is key to my clients – as most would prefer to spend their time selling rather than figuring out a complicated cart system. This shopping cart is easy enough for anyone to use and its simplicity makes it a cinch for me to pop in and tweak things if you need it.
So where shall we start?
I can customize and launch a site for you in very little time. The hardest part of launching an ecommerce site is developing your content, gathering photos, determining your shipping etc. I can certainly help you with all of that as well – I've operated my own ecommerce store and have plenty of tips to share.
Shopify setup starts at $500 and includes:
Open a Shopify account on your behalf (BONUS: UNLIMITED TRIAL!! You won't need to pay a subscription until you launch)

Installation of your theme (or mine)

Setup your categories for you – this can be tricky for most shop owners

Customize your shipping, taxes, etc

Upload your logo, add your colours

+

 fonts

Setup your home page

and more… just ask!
Full Shopify sites start at $3000 and include:
Basic design esthetic using current logo (or typeface company name)
Shopify theme setup, navigation, layout and coding (I use my own Shopify themes as a base)
Home page slideshow and featured products
Layout and styling of product and content pages (adding products and copy on your behalf is additional)
Custom checkout pages to match your site
Integration with current email marketing service
Social media integration
Customization of hosting account to accommodate Shopify
Customization of shipping, taxes, payment and account admin
Set-up of blog/news feature
Responsive layout (looks great on desktop + mobile)
Cross browser testing
Unlimited email consultation until launch
One month of reasonable corrections and adjustments
BONUS: I'll provide custom training videos for anything you need assistance with
Included SEO:
Assistance with copy editing
Best practices for search engines (Shopify's built-in SEO rocks)
Need More?
If you need some fancy features just ask, if it's in my skill set I'll do my best to incorporate it into your site
Custom HTML customer emails (Shopify comes with standard emails, but we can make 'em real pretty)
Photo Galleries
Integration with third-party apps
Colour swatches – great for clothing shops
MailChimp set-up
Customized forms to collect unique info
You don't need to learn to code:
The theme I create for you will have a lot of built-in support so that you can independently update your site anytime you like. If you like I'll give you a couple of handy tips to make your layout skills stronger.  But beyond that most everything is done through a really easy admin section.
Nothing to install and host:
Shopify is a hosted cart – they keep everything on their super-fast servers for you (instead of one that you rent space on and install the software yourself). This means they keep a close eye on any service disruptions or other problems for you. And anytime they improve or upgrade the software it gets added automatically to your shop without anyone having to upgrade it.
Lots of great features – but not too many to overwhelm you:
You need to be able to quickly add and adjust products, process orders, keep track of stock and promote your items. Shopify has the basics beautifully covered and then some. Plus there are some very handy apps that we can add on if you extend its capabilities (like showing hand-picked related products).
Sure there are carts out there that have a gazillion features, one-time fee, or are open-source (free to use). But the compromise is the need for complex customization, expensive developer fees for any updates or changes, and a complex admin section that confuses a new shop owner.
More about ongoing costs:
Shopify has a monthly hosting fee that starts at $29 (US) and of course I believe it's worth every penny for the peace of mind knowing your site is in good hands. Check out the different levels to see what is included – and feel free to ask me which I think might suit your needs. PS What you'll spend on fees you will more than save on initial development and set-up costs (a more complicated cart will cost much more to have someone customize it for you).
Have a retail store? Go to tradeshows? All you need now is the Shopify POS which will tie your online and offline sales together seamlessly.
Questions? Contact me with any questions you have – I'd be happy to help you decide if Shopify is right for your project.